PHP full stack development is among the most widely used programming languages in the world. Its open-source tools and fast running speed make it a preferred choice in almost every IT development area. Moreover, it is behind nearly 80% of the web. You see, several online platforms today are PHP-based, such as Facebook, Yahoo, Tumblr, Flickr, MailChimp, Wikipedia, and WordPress. 
Aspiring developers in India must not overlook PHP, as this technology is on the radar of many big IT firms and multinationals. Some of them include HCL, Wipro, TCS, Accenture, and Cognizant. If you are contemplating a career in PHP, this article is for you.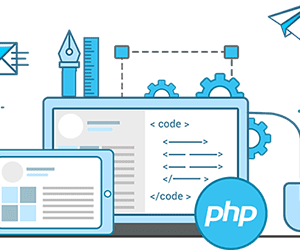 PHP is widely used because of its features. It is an open-source programming language, which makes it easier to develop existing code for programmers. Another reason why developers prefer PHP is because of the scalability it provides, and more servers can be added to the website to increase traffic. The PHP ability to be a secure language is an added advantage for the companies. It becomes easier for the government and companies to use a language when it is secure. Another PHP ability is being an easy-to-learn language. Beginners can acquire the knowledge much more easily as compared to other languages. Also, an abundance of learning materials online adds to it being an easy-to-learn language. PHP ability for retrieving information and data at a much faster speed than the other languages is appreciated by the developer.
There are various PHP ability and features that have made it one of the most used languages by developers. The list of its features is not limited but to add a few more, customization and fast development are another set of important reasons which are given below….
Large choice of available specialists.
Plentiful documentation.
Improved loading speed.
Wide selection of databases.
Inexpensive open-source software.
Cheaper hosting services.
Excellent combinability with HTML.
Good flexibility.
So, being versatile in this general-purpose scripting language can give advantage for beginners. Now, let us look at what a career or job opportunities in PHP development looks like.
Command-line scripting
Server-side scripting
Database concepts
Desktop application development
Web development
Compiler based application
Computer programming
If you're interested to learn more about php full-stack development course, check out WebsJyoti Diploma courses in php Full-stack Development, which is designed for working professionals and offers 500+ hours of rigorous training and other services below here…..
Small batches – up to 5 students in a batch
100%  Practical Classes on Webs Jyoti web portfolio. Check our websites 
Study Material and books, written by our founder.
Lab Facility with Internet
Course Completion cum project experience certificate.
Grooming sessions for the job seekers
Training on 2-3 live projects
Job / Placement Assistance and grooming sessions
About  Websjyoti
There are many Institutes who are providing Advance PHP and Web Designing Training in Gurgaon but why would you join us? Webs Jyoti is an IT company that works on PHP / MYSQL and Java platform and also provides training on live projects.
Learning PHP and Web Designing with a development company means you learn how to work in the company's environment along with learning PHP and other Web Services. All developers and designers who will teach you have 5+ years of experience in the IT field.